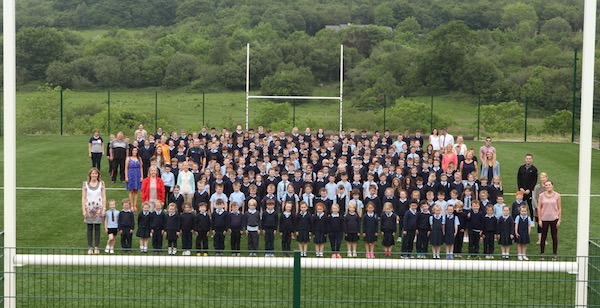 We would like to welcome our new Junior Infants for 2022-2023.
We wish our boys and girls Cumann na mBunscol teams to very best as competitions return in 2022.
We are delighted that our extension is almost completed. We have five new classrooms and all other rooms are fully refurbished. 
Mark English and Sean McGinley have opened our running track around our astro pitch Oct 22.
Congratulations to all our Allingham Arts winners for 2022/23.
We have won our first Donegal Sports Star award. Best sports school !!
Best of luck to our VEX Robotics and Coding teams who are preparing for the ATU regional competition.
Congratulations to Leah in 6th class who has turned on the Letterkenny Christmas lights 2022.
Congratulations to Lucy  in 4th class, 'Donegal's fastest child' U10 2020.
Our 6th class boys and girls rugby team represented Ulster at the recent Aldi Rugby tournament in the Aviva Stadium. Well done to all on a fabulous day.
Bicycle training skills will continue as part of out Greens Schools Travel flag 2022.
Glenswilly N.S. will continue in the National Creative Schools Pilot programme for 2021/22.
The 'Food Dudes' programme will take place in November 21/22.
Congratulations to Patricia in 5th class. She won the National title of the Sightsavers Art competition and travelled to Trinity College for an awards ceremony in April. We all watched her on RTE News2day. 
We were delighted to welcome the German Rose of Tralee to our school. She performed opera for our senior classes. 
We hope you enjoy our website. On this site you should get some idea of the many activities in which our children are involved and what it is like to be a member of our school community.
We hope the children, their parents and family will be frequent visitors to our site and that you find it both enjoyable and informative. If you do not find all the information you are looking for please contact us in the school.
Contact Us:
Tel: 074 9137342 
Email: This email address is being protected from spambots. You need JavaScript enabled to view it.
Morning Supervision
Some children are being dropped off in the morning before 9.00am. The school opens to receive pupils at 9.00am. No arrangement exists for the supervision of children who arrive at school whether by bus or otherwise, before 9.00am and therefore no responsibility is accepted by the school for pupils at this time. Pupils arriving before this time are unsupervised.